Get Your Tickets for Yorkshire Cosplay Con Now!
If you are having any issues ordering your tickets please email us at
info@yorkshirecosplaycon.co.uk
Yorkshire Cosplay Con 2018
2nd and 3rd June 2018 at Sheffield Arena, S9 2DF
Yorkshire Cosplay Con 2018 returns to Sheffield Arena for another incredible event. Book your place now to join us and release your Inner Geek!
To purchase tickets visit the
Sheffield Arena Yorkshire Cosplay Con 2018 box office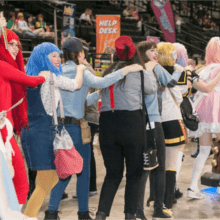 To buy tickets for our Social CLub events please visit: Skiddle or call 0844 884 2920.
Skiddle.com is the official ticket outlet for Yorkshire Cosplay Con. All credit card purchases you make at Skiddle.com are encrypted through our Secure Server Technology
Yorkshire Cosplay Con 2018 Photo Sessions